I was tagged by Watermelon from Everything AG and Green Tomato Doll Studios! Thank you! I felt like completing this tag because I get to share my favorite dolls and that's always fun :)
Rules
1. List 3 favorite dolls from the ones you got last year.
2.List 3 dolls currently on your wishlist.
3. Tag 5 people to do the same thing!
I actually ended up buying exactly three dolls last year so this question is perfect!
The first doll was Marie Grace-
The next doll was Kirsten!-
Instead of using stock photos from AG I decided I would just find a picture that I really liked of them.
This one was hard... here are the dolls I ended up choosing as my top three!
First on the wishlist would have to be Grace Thomas-
image credit American Girl
The next doll I would buy would be TM #58-
image credit American Girl
It was so hard choosing the third one but I ended picking out Addy Walker!! -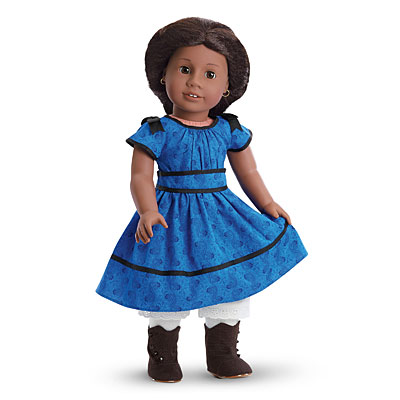 Image Credit American Girl
I love the Beforever or the Pleasant Company version but I prefer the feathered eyebrows!
So instead of tagging 5 bloggers I nominate all of you! I would love if you could answer in the comments section what your 3 favorite dolls from last year and three dolls on your wishlist!
In other news I will hopefully be posting a Thrifty Find Friday post or vacation haul post. I will be going to the Grace movie premier tomorrow! One of the dolls, since AG is offering free ear piercing until June 30 will get their ears pierced and hopefully I will be able to take picture of the new releases and goody bag! So look out for that in the near future :) I'm excited!