The day that Truly Me launched I was starting my vacation so, this post was planned for a long time and has never been posted. The reason I didn't post anything yesterday as I borrowed The Heir by Kiera Cass from a friend and stayed up late reading it! It was a great book and I really want to read the next book, which will be coming out sometime in 2016. The wait is going to be long... Overall the Truly Me Release was a great surprise. Personally the name Truly Me is much easier and quicker to say than My American Girl and I love the abbreviation of just two letters: TM. Their were rumors of new dolls coming out, which, to me, is the most exciting thing about a release.Plus the in-store exclusives are awesome! I was so happy with the diversity added to the lines and I am very excited to share my thoughts on this release.
First up is the new dolls-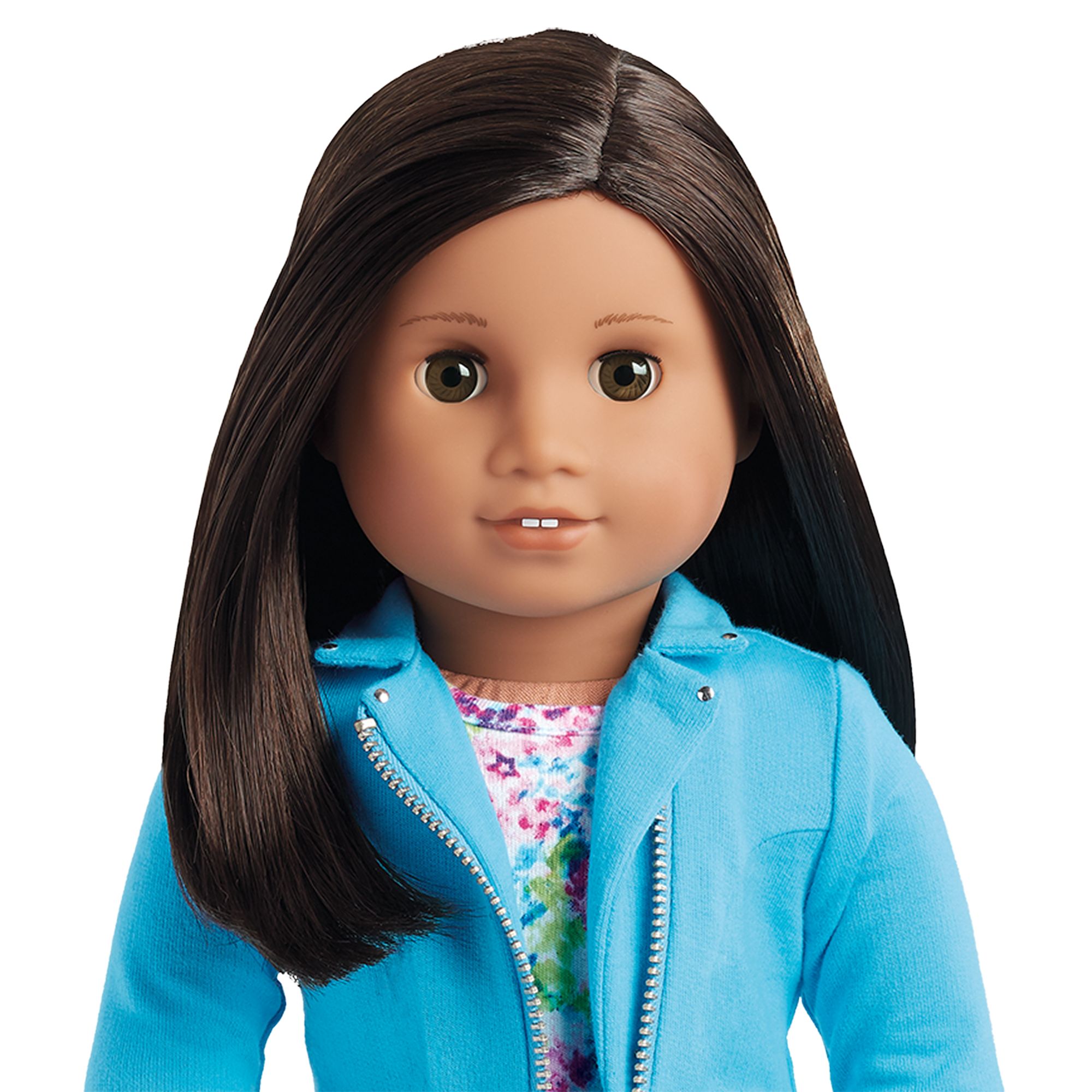 image credit American Girl
Truly Me Doll #62 $115 I love this doll! I think the hair/eye color combination is spot on. Amber eyes are really unique and I love that she has the Sonali face mold. I think it's so weird to call her #62 as I thought #61 would be the last one for a while.
image credit American Girl
Truly Me Doll #63 $115 I don't know what to say about this doll, she is cute but including her their are 5 blonde blue eyed dolls in the Truly Me lineup. Really? I honestly wish they would have at least added her with brown eyes, I think a brown eyed #53 would be the cutest!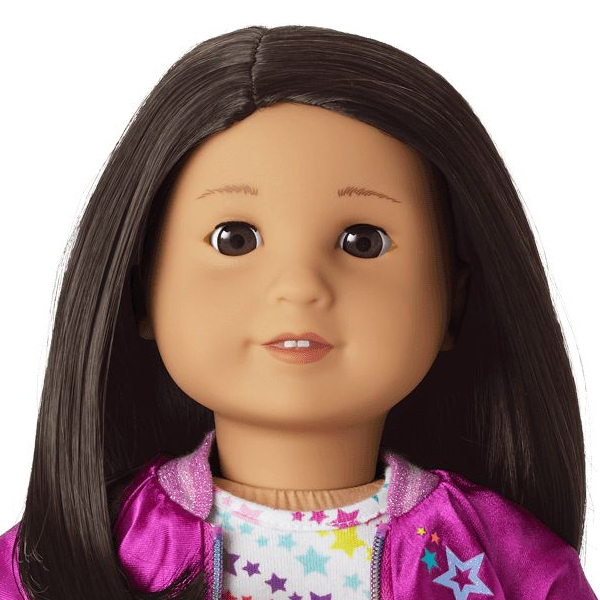 image credit American Girl
Truly Me Doll #64 $115 She is amazing, I am adding her to my doll wishlist. I think she has such a sweet expression and I really want to add a Jess mold to my collection.
The Truly Me meet outfit I think is an improvement from the other choices, should we compare? Doll Diaries did a great Throwback Thursday showcasing most of the outfits, my favorite would have to be 2002 Go Anywhere, it looks stylish and put together with mix and match possibilities. The new one is not elaborate at all, only featuring a dress, shoes and underwear. To me, the meet outfit kind of looks alien or space inspired. Is it just me or is it interesting that #62 and #64 look similar to Cecile and Ivy? These could be their look alike replacements.
image credit American Girl
Love To Layer $28 Now I know why the meet outfit is so simple, it encourages you to buy the love to layer ;) The "badges" on the moto style vest (which I think is cute! Love the dark blue) look similar to grin pins that American girl used to sell. I think the outfit does look a lot better with the love to layer items and I like that for $28 it does include somewhat more than, lets say, the pretty pink tutu set. The headband, hair clips and hair bands are a great addition to start styling the dolls hair!
image credit American Girl
Shimmer Doodle Outfit $28 I like the price although if a lower price means less items included it's not that great. I would buy it just because #64 looks so cute in it! I think it is an interesting outfit to release during summer because the long sleeve t-shirt and boots look more like fall to me. I do like the color palette and the graphic design does look nice, the slouchy boots are cute.
image credit American Girl
Flamingo Beach Dress $28 I don't usually like halter tops on AG just because it looks awkward but I like this outfit anyway, I think the bracelet is a great addition even though it is plastic and the sandals are very cute! I think this will be a hit and looks much more on trend to what 8 year olds would be wearing. I would buy this but I want to see it in person first ;)
image credit American Girl
Beach Blanket Set $28 I like that American Girl is adding an affordable doll food option to this release and for $24 it's a good deal. The beach blanket does not look that large to fit a doll on but I like the design. I really want to try making a turkey sandwich out of polymer clay now!
image Credit American Girl
Beach Hammock Set $58 The hammock does have a large price tag especially with the very small amount of accessories it includes. The hammock looks really easy to recreate and would be a fun challenge to take on! The AG magazine,visor and pillow would be simple to make too. A review on the American Girl website says that the doll is longer than the hammock, toughing the ends of the stand although I think the doll is mainly supposed to be sitting upright on the hammock from the store display.
image credit American Girl
Seaside Fun outfit $30 The price is interesting, for three items which is what the rest of the outfits in this release are for the price of $28 I would wait for this to go on sale if I consider buying it. I really like the hoodie although it reminds me of the bright stripes outfit but better :) I wish the shorts were just plain white as the design does not continue on the back, I do love that they are cut offs though! I really like the shoes and the jewels are a really nice touch. This outfit might be gone at the end of the summer just like the Sunny Isle outfit which I did not buy before it was too late (And by the way the price was $28 for 4 items)
Besides a few activity kits and books which I really like the Doll Art Studio and Dining this was a smaller release. Hopefully sometime soon they will add more things :) Have you seen the new in store exclusive?! The prices were marked down and the swim shirt and shorts for $10 is a great deal! I may just have to buy it :) The Sailboard Set for $48 is a great and unique addition to any doll collection, I love the life vest! Credit to Lissie and Lilly for the update on the marked down prices. I also really like the addition of the Design Studio. Sorry for the really long worded post, I really like writing what I think about the new releases.
I used the header of my blog in pic monkey to make what I think looks like a better sign off :)